Stain Removal Tips & Tricks – How to Remove Stains and Impurities
Remove stains with Brown Soap
Brown soap is an excellent stain remover. If you have a stain on the clothes, you can apply a good layer of brown soap to the stain and leave the piece of clothing either folded around the stain or in a plastic bag for the next day. Then wash the clothes as usual. If the stain has not gone away, you can repeat the treatment.
See Sterling Brown Soap, Gel here
Sterling Citric Acid for Stain Removal – Removes some types of fruit juice stains
Here's how you do it:
1 part citric acid is dissolved in 9 parts water, after which the stain is rubbed with the solution.
Always try a "non-visible" place first to see if the color of the fabric can withstand the solution.
On dry spots you can possibly. first soak with glycerin.
The fabric is washed after the treatment.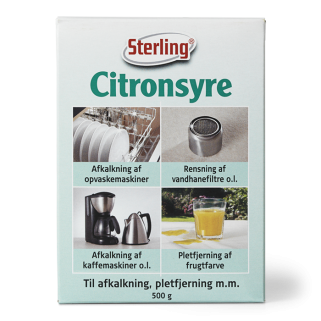 Gentle wash with Sterling Liquid Soap Chips
If you need detergent for a gentle wash (softshell materials, sportswear or other breathable materials), then Sterling Liquid Soap Chips is the answer.
You can also use it for high quality clothing (silk, leather, wool and synthetic clothing)
There are no emollients in, optical white or phosphate.
Here's how you do it:
Use as a common detergent for gentle washing.
Add Sterling Liquid Soap Chips to the washing machine or wash ball and select the washing program according to the washing instructions on the clothes.
For medium-hard water, use approximately 60 ml (1 ½ cap).
For Hard Water you can use up to 80 ml (2 caps).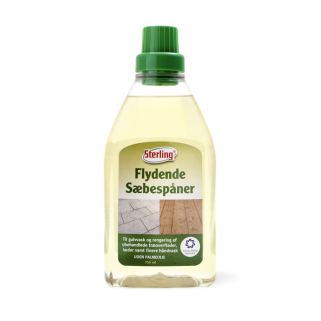 Or use Sterling Soda, a versatile cleanser
Sterling Soda can help with many cleaning problems. It can both relieve greasy workwear (high grease dissolving), used for delicate and white clothes but also for stain removal.
To remove stains from cotton or canvas fabric with Sterling Soda:
Prepare a tub of warm water and Sterling Soda – See dosing schedule below
Then place the object in the tub – Make sure the stain is covered!
Always test the color fastness of the fabric before using crystal soda for stain removal.
Dosage:

Mild: 1 tbsp. Soda for 0.5 liters of water
Alm: 0.5 dl Soda to 0.5 liters of water
Strong: 1 dl Soda for 0.5 liters of water
Overview: 0.5 dl soda = 23 g = about 2 tbsp